How to Make a Festive Pomegranate Cosmo for Your Christmas Party
Bring out the Tito's for these tasty Christmas Cosmos!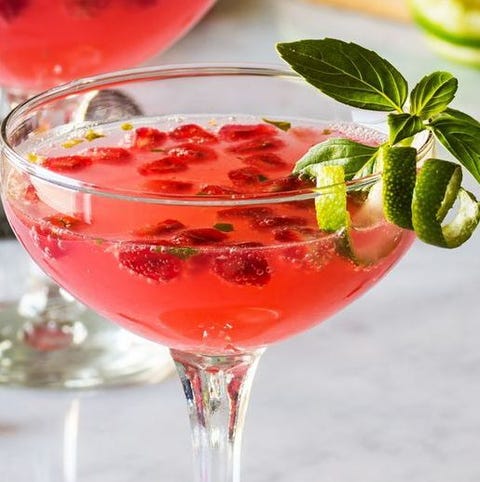 Turn a classic cocktail into a holiday delight with easy Christmas Cosmos. Pomegranate seeds and a hint of lime provide the necessary red and green color—not to mention delicious tart flavor—while orange liqueur adds the characteristic sweet citrus notes of a cosmo. Not only is this sweet-sour drink a total crowd-pleaser, but it's also easy to make with just 4 ingredients plus an optional (but highly recommended!) garnish. Serve it in chilled martini glasses for fancy flair or enjoy it on the rocks for a lighter sip.
Be sure to use a pomegranate-cranberry juice blend instead of straight-up pomegranate juice to balance out the cocktail's tang. The juice provides the majority of the flavor here, but feel free to swap it out for regular cranberry juice or experiment with other favorite fruit juices. Note: You can use sweetened or unsweetened juice, but if you use unsweetened, you'll have to add sugar or simple syrup to taste. Without it, the cocktail would be very tart.
To make the lime twist garnish, slice a lime in half, then cut a 1/4-inch ring from one half. Remove the pulp from the rind, then make a slit in the peel so that you have one skinny strip of lime peel. Curl the peel into a twist and garnish the cocktail glass. Voilà!
Want more festive drink ideas? Check out our best Christmas cocktails and Christmas shots.
Total Time:
0

hours

5

mins
1 c.
pomegranate-cranberry juice blend
Put the vodka, pomegranate juice, orange liqueur, and lime juice in a large liquid measuring cup or pitcher.
Add ice and stir 30 seconds or until cold; strain into chilled martini glasses.
Garnish with lime twists.
Did you make this recipe? Comment below!
This content is created and maintained by a third party, and imported onto this page to help users provide their email addresses. You may be able to find more information about this and similar content at piano.io