We may earn commission from links on this page, but we only recommend products we back. Why trust us?
16 Best Undereye Patches That Instantly Brighten, Tighten and Lighten
Top-rated eye masks to nix dark circles, bags and puffiness.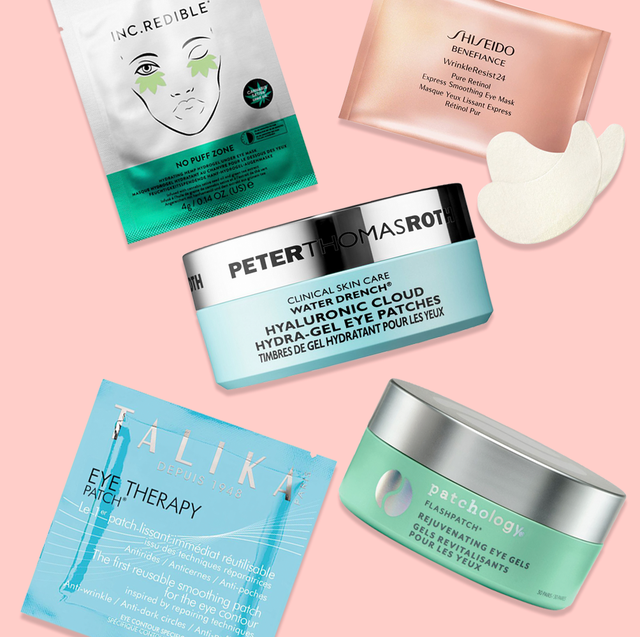 For the nights when getting a full eight hours of beauty sleep is just not possible (think: red-eye flights, bachelorette parties, the eve of a Big Meeting), there are undereye masks. Unlike a sheet mask or a traditional skincare face mask, these patches are formulated specifically for your delicate undereyes to target eye-specific issues like fine lines and crow's feet. Uniquely shaped and formulated to stay put, they're perfect to slap on your clean, dry undereyes when you're traveling, before an event, or anytime you're feeling puffy or swollen (looking at you, post-happy hour mornings).
At the Good Housekeeping Institute Beauty Lab, we test thousands of skincare products annually to help our readers rest easy knowing they're investing in products that actually work. Most undereye patches claim to do anything from hydrating and firming the skin underneath the eyes, to reducing fine lines, to diminishing puffiness and dark circles, or brightening the eye area — but only some actually do so. That's why we rounded up 43 of the most popular undereye masks (tested on 250 women) to narrow down the field to find the 15 best picks that actually work.
How we test undereye masks

We sent products (with labels obscured) to hundreds of women with undereye concerns like fine lines and wrinkles, dark circles, puffiness, and lack of firmness. After using the masks at least three times, the women answered a detailed survey on performance, ease of use, and efficacy. We also took in-Lab measurements before and after use with the Visia Complexion Analyzer, which can measure wrinkles, spots, UV spots, pore size, and skin texture.
What we found was surprising: The most common benefit seen with these products in the Lab was softening and smoothing of fine lines and wrinkles immediately following application. (About 90% of the panelists agreed that the patches hydrated their skin). As far as eliminating dark circles and undereye bags, our findings only saw occasional tightening benefits, low reduction of undereye bags, and little (if any) improvement of dark circles. That means that these patches really are best for acute issues like puffiness and tired eyes. Think of eye masks as a Band-Aid, not a cast: They offer a temporary fix, not a long-term cure.
Our favorite eye patches scored points for not leaving an unpleasant residue and did not interfere with any makeup application following use, making them ideal for applying first thing in the morning, before a night out, or on the go. Bonus: 79% of testers reported softening, cooling, and relaxing benefits across the board, so try 'em during your next self-care regimen.
Below are the best undereye masks you can buy, a combination of our top-tested products, editors' and expert picks, and cult-favorites that have stood the test of time. Don't forget to follow up with a best-tested eye cream and concealer for your most radiant eyes ever.
This content is created and maintained by a third party, and imported onto this page to help users provide their email addresses. You may be able to find more information about this and similar content at piano.io